Vocational Transport for Special Needs Students
Understanding with Care & Reliability
We at Tim's Transport have worked for many years with all the local authorities supplying specialist transport for students with special needs requiring transport. A percentage of our work includes collecting and transporting pupils from their regular educational establishment for their vocational training placements.
We understand how important these days are to the student and to their teachers and parents. So we make sure that their transport is there in plenty of time to both collect and get them safely to their place of training.
5 Reasons Why We Are The Best Choice
Specialist vehicles for all SEN needs
Fully trained drivers & passenger assistants
Experienced company with proven track record
Qualified & Enhanced CRB cleared staff
Already working with local authorities in sector
Vocational Transport Service
Transport to and from educational establishment to vocational site
Regular contract or one-off journeys
Competitive prices with package to match
Liaise with teachers & parents/guardians
Flexible arrangements
All ages catered for
Call us now on 01452 739097.
More Information
---
Testimonial
"We are very pleased with Farooq. He talks to the boys in the taxi and makes their journey to school enjoyable. Takes interest in their school work. Much better than previous operators. We would recommend anytime!"
Mr Paskin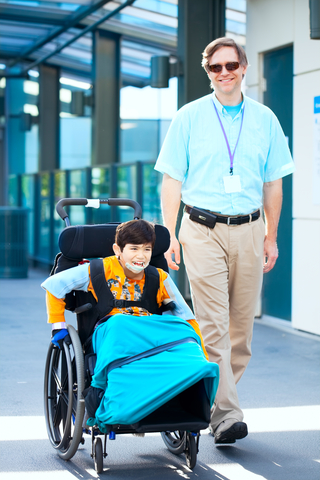 Tim says:
"The core of our business is specialising in transport for passengers with special needs. Working with the local authorities we have successfully been awarded hundreds of contracts over many years. Working to the highest possible standards of safety and care we continue to be Gloucestershire's premier transport supplier. "